Underworld figure
George Marrogi
dragged his girlfriend into a plot to smuggle more than $50 million of drugs into Australia while behind bars for murder, his lawyer says.
Marrogi, 33, is serving a 32-year term at Barwon Prison for the
daylight killing of Kadir Ors
, who was shot dead outside a Melbourne shopping centre in 2016.
The man who sourced the Butanediol owed Marrogi $1.5 million and Mannella's role was to help him recover the debt by arranging for the Butanediol to be sold off by others.
But their plan was foiled when the truck was pulled over by Victoria Police in Horsham on January 24 2022, with only two out of four drums found to be carrying Butanediol.
Then, in February, the pair organised for 56kg of methamphetamine and 13kg of heroin to be flown into Melbourne from Thailand, disguised in 27 boxes of green tea and magnets.
The Australian Federal Police estimated the drugs had a street value of $55 million.
Marrogi and Mannella have pleaded guilty to two drug trafficking charges, one state and one Commonwealth, and faced a pre-sentence hearing on Tuesday by videolink from prison.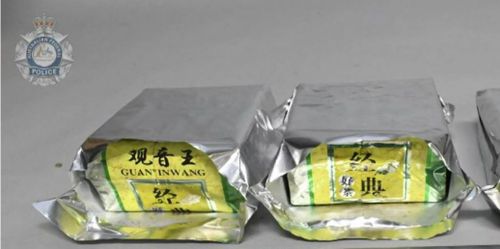 The couple had communicated about their trafficking operations using a covert prison phone link that diverted to Mannella from his lawyer's office, the court was told.
Some of the calls were intercepted by authorities.
"Throughout these phone conversations, Marrogi would co-ordinate activities by issuing instructions to Mannella, and others, who would then facilitate these instructions at Marrogi's behest," prosecutor Samantha Holmes said.
She said the couple, who had met through Marrogi's late sister Meshilin, used code words to discuss the trafficking, including "fish" and "kittens".
"How are the fish going? Did they move to the aquarium or not yet?" Marrogi asked Mannella, after the drugs arrived in Melbourne from Thailand.
Marrogi's barrister Peter Morrissey SC said his client took full responsibility for "dragging" his girlfriend into the scheme and that he was "lonely and stuck" in a high security prison cell during the offending.
"On this plea, George Marrogi wishes to assume primary responsibility for this offending. He led the co-accused, Mannella, into this offending," he told the court.
Marrogi accepted he would receive a heavier sentence than Mannella, Morrissey said.
"He wishes to take that one on the chin," Morrissey said.
He asked Judge Peter Rozen to make some of the sentence concurrent with his current jail term.
Sign up here
to receive our daily newsletters and breaking news alerts, sent straight to your inbox.