The search for the owner of a drone found in a river in central Tasmania has led all the way to the frozen wastes of Antarctica.
Key points:
Billy Merrick was flying his drone when it hit a tree and crashed into the Franklin River
Months later, it was discovered by Alex, who posted one of its images online hoping to find the owner
Mr Merrick, now working in Antarctica, said it was "amazing" it had been found
The missing drone was found in the Franklin River by a Reddit user named Alex, who posted one of the images from its SD card on the forum in the hope of finding its owner.
"I found a dead drone in a Tasmanian river," they said.
"Does anyone recognise this man? I'd like to at the very least return his SD card or the data on it."
After the search was picked up by the ABC Hobart Facebook page, the elusive drone pilot was found — in Casey Station, Antarctica.
"That's my husband Billy Merrick. He lost [it] in a river before heading to Antarctica late last year," Sally-Anne Merrick commented on the Facebook post.
Ms Merrick said her husband lost the drone while hiking Frenchman's Cap before heading south in November to act as a plumber and fire chief for the station for a year.
The ABC phoned Mr Merrick in Antarctica and he relayed how he lost the drone.
"I was just at the entrance to the Frenchman's Cap walk and we were near the suspension bridge and I hit a tree and it fell into the river and washed downstream," he said.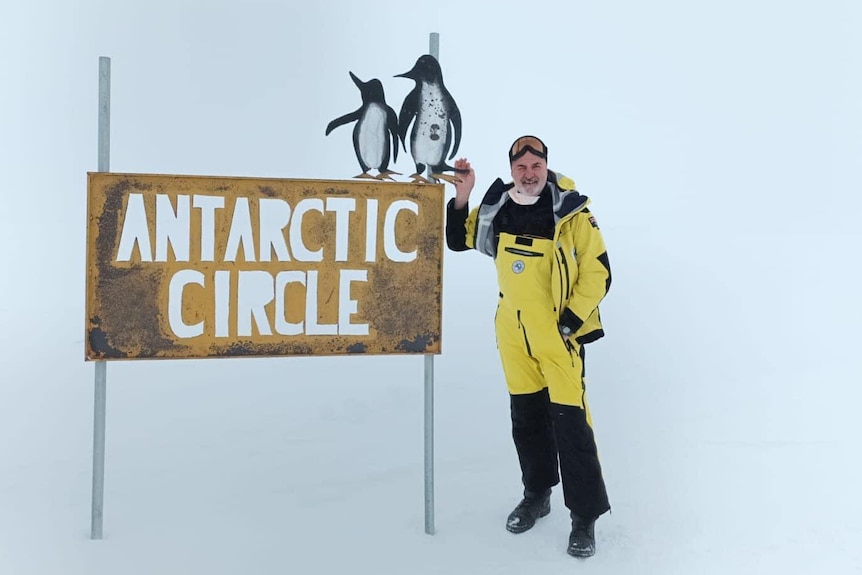 The use of drones in Tasmanian national parks is not permitted, with the exception of authorised commercial or event filming or for "scientific research conducted by persons associated with research organisations".
Mr Merrick admitted he later realised he should not have been flying in the area, but said it was "amazing" the drone had been found.
"It's just amazing, it's just gone full circle," he said.
"I'll be able to grab some of the footage off it."
He said he was hugely thankful to the person who found the missing drone, and that the discovery had caused quite a stir at the station.
Ms Merrick said her husband told her his phone had been "buzzing with notifications".